What's in store for graphic design in 2018? What trends will rock and which ones should we forget? Be on the top of the game with our ultimate list of graphic design trends that are going to be big this year!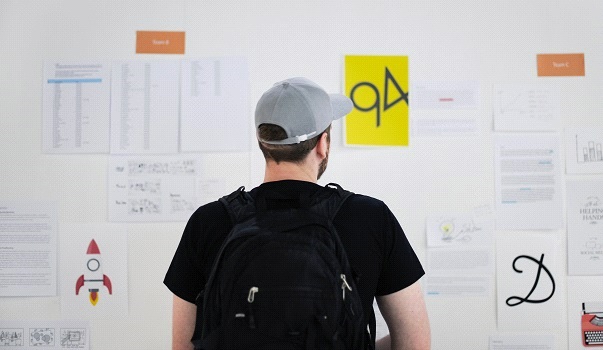 What will rock the graphic design world in 2018?
With 2017 behind us, we look into a new year of exciting design that will again push some boundaries and make a good mix of old and new. Graphic design trends for 2018 seem to follow old and established paths that work in any creative filed.
Good stuff from previous years is revisited, refreshed, and used again. However, this does not mean that the most popular things are picked up again.
What's been popular in the last few years may as well seem outdated and boring this one. Some trends seem to stick over time, while others are quickly forgotten. It is also evident that trends in design follow general lifestyle trends.
Organic, authentic designs that speak to individuality and have a hand-drawn feel are on the rise, including custom designs. This will bring more work to designers, which is always good! This will not, conversely, push aside a more tech-style designs that still have a strong audience and consumers.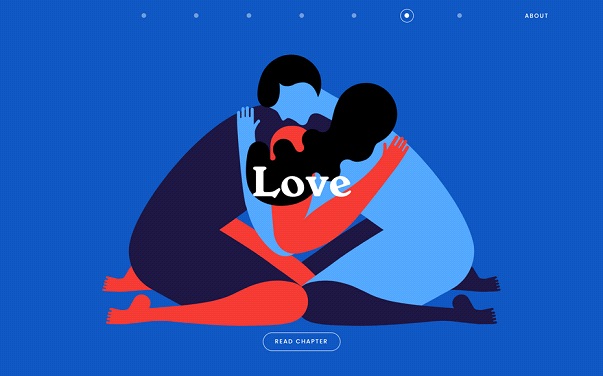 Custom illustration via Inside the Head website
Graphic design trends in 2018 promise a great variety of styles and tech experiments to excite the consumers throughout the year. However, it's not easy to make the right decisions, if you are faced with so many options.

How to navigate the field and stay current with all the changes?
To save you from this time-consuming and often nerve-wracking task, we took the pulse of the graphic design world and noted down what will be big this year. Some trends keep going strong, such as Minimalist design, while others fall behind.
Minimalism will continue to be one of the major graphic design trends, but if you are into holography we are sorry to tell you that this technique will appear less and less in top designs in 2018.
So, let's start with the list and see the hits in graphic design for 2018 and 2019.

Strong and bright colors trend
With amazing new discoveries in space that NASA announced in 2017, it is no surprise that space-related aesthetics is taking over the design world as well.
Bold, strong colors are making a comeback, including Ultra Violet being named the color of 2018. This deep blue and purple shade is reminiscent of stars and planets, but also evokes a deeper sense of discovery.
Metallic colors and one-color 3D designs will also join the list of top graphic design trends and will dominate this year.

Double exposure graphic design trend
Dormant for several years, the trend of "double" is coming back, and we already see a lot of variations – from double exposure duotone to double light. Double exposure duotone is achieved when an image is doubled or two different monochromatic images are overlapped, giving the design a futuristic effect.
Double light can transform any composition into an edgy and modern visual, achieved with two sources of light or color channel splitting. One great example is the poster below by Krzysztof Iwanski.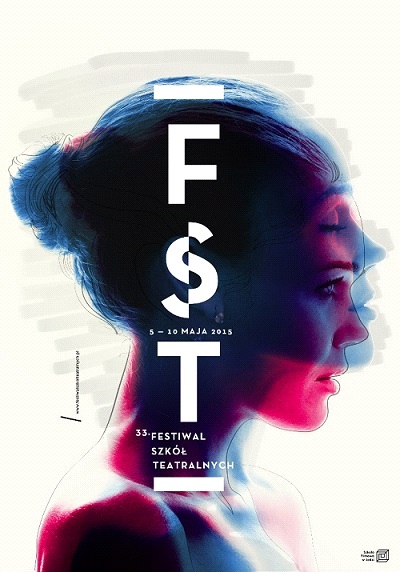 Double exposure duotone design by Krzysztof Iwanski

Color Transitions
Color transitions are having a comeback as well, after they have been sidelined in 2007 with the emergence of flat design. Now they are returning and one of the initiators of this comeback is Instagram. It redesigned its logo into a colorful gradient in 2016 and brought attention to this somewhat forgotten technique.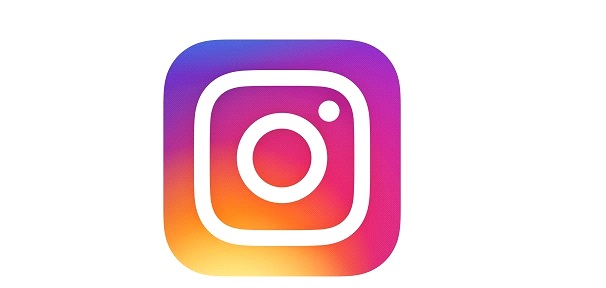 Color transitions and gradients are terms used interchangeably these days, but color transition refers more to a modern, vibrant, and flatter application of color, which is used today for flat design enhancements.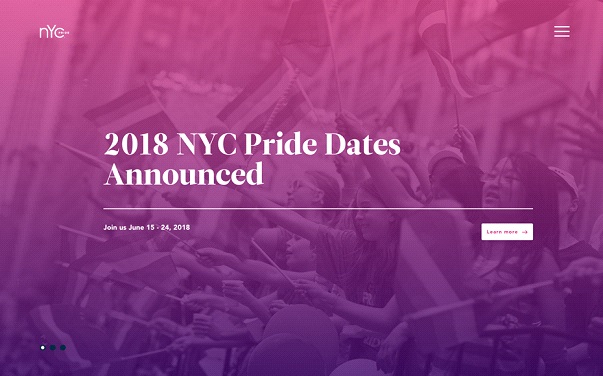 Gradient image overlay with color transitions. Image via NYC Pride

Bold and bright typography effects
In 2018 the fonts are going bigger, brighter, and bolder than ever before! Typography as the dominant element in design remains one of the leading trends, but the Helvetica-inspired sans serifs popular in the last few years give way to a more variety. Among the popular types, we see the rise in hand-written, cropped, chaotic, 3D, and color types. The negative space typography is also among the ruling graphic design trends for 2018.
Big and bold typography is a rising trend in web design as well. It's perfect if you want to make a clear, stand-out statement this one below from Janne Koivistoinen's website.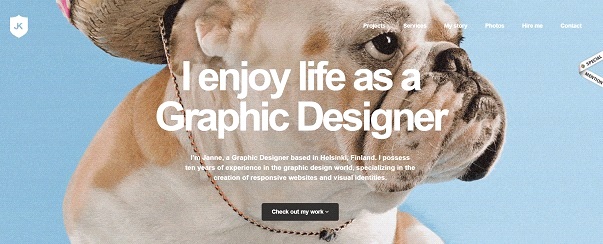 We wrote a more detailed account of typographic trends to follow in 2018, so make sure to check them out if you want to learn more about what to expect in typography this year.

Minimalist minimalism
Minimalism has been one of the dominant trends over the last few years and will continue its rule in 2018 as well. Although it may seem tough to come up with innovations in style that relies on showing less, designers are breaking new grounds by creating hyper-minimalist designs, such as this one for the classic children's story Pinocchio, by Christian Jackson.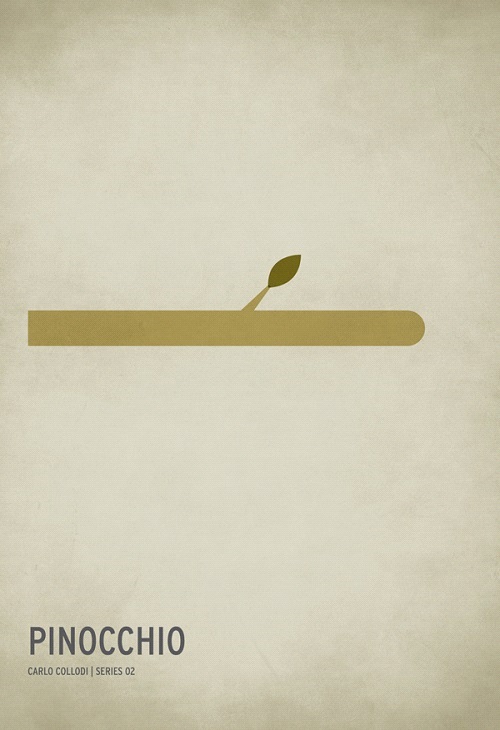 Minimalist design for Pinocchio, via sinch.us
In 2018 Minimalism will not be associated with cool and apparently unemotional style reserved for high-polished products. We'll see designers bring some more details and warm colors into their works like in this poster for Adele's tour by La Boca studio.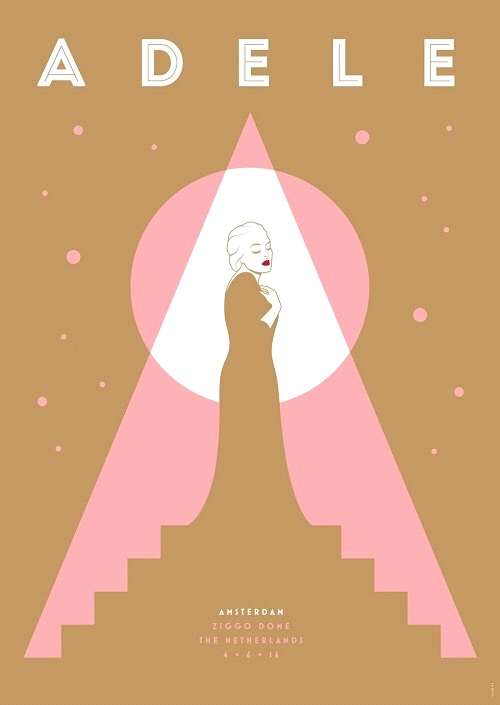 Limited edition of screen-printed poster via site.laboca.co.uk

Custom illustration and graphic art
Being original and authentic will never go out of fashion. The demand for custom designs continues to grow this year as well. While the proliferation of stock imagery and flat design pushed calligraphy, illustration, and other techniques out of the spotlight, we saw them slowly coming back in the last few years.
If we know that custom artworks and illustration add more value, personality, and authenticity to a brand, it's no surprise that they are having a big comeback in 2018.

Vintage in high detail graphic design trends
As with minimalism, vintage style is also one of the common trends in recent years that will continue to grow in 2018. Although this trend may not seem useful to everyone, if you are looking for a wholesome, hand-crafted and simpler feel that is also timeless, then you can opt for vintage. Go even into a high detail with your design, as high detail vintage will mark this year. Graphic designers will particularly be inspired by the 1980s and the mid-century modernism.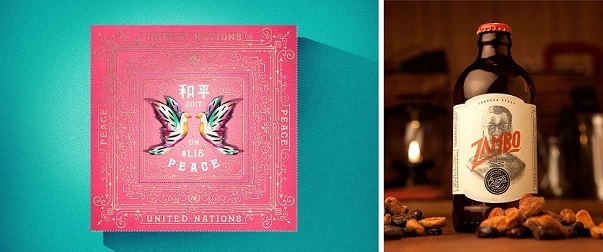 Left: UN peace stamp via mossandfog.com; Right: Zambo Stout design by Oscar Bastidas via pinterest.com

Cinemagraphs
Cinemagraphs are similar to gifs with one distinction – you cannot tell that easily when they start or end as they resemble an endless loop. Many designers prefer cinemagraphs to gifs as they appear more elegant, sophisticated, and include a subtle motion. As the growing trend, we expect to see much more cinemagraphs with static images and subtle animation in 2018 and the following years.

Animation rules!
Let's put it simply - all of the trends above would get an extra boost if you animate them a bit. The animation is still going strong, and it's not some big philosophy behind it. As it has been proved numerous times, and we have written about it as well, animated images are much more attractive than the static ones. So don't shy away from getting your design moving in 2018!

In Sum: Graphic design trends 2018/2019
We'll see a lot of comebacks, as color transitions, gradients, and double exposure are back in the game. Designers are also taping into the proven winners such as Minimalism and vintage style, bringing the feel of the 80s and a mid-century aesthetics back.
New discoveries also pushed the interest in bold and strong colors and typography, making a futuristic and edgy design one of the strongest trends this year.
One thread that brings all these trends together is surely animation, as it continues to be the ultimate choice of designers who are going for timeless and yet engaging designs.
Among the trends that are falling from the list are holography, classic duotone and solid color flats. They may, however, still find their application in web and app designs as they provide an unobtrusive experience and better functionality.
So here you have it — the list of the ultimate graphic design trends for 2018/2019. Use them for your own content or create a professional logo animation. We'll keep an eye on the design world and let you know about any new emerging trends!