Would you like to glide through a peaceful countryside while chirping of birds and a calming sound of cable car fill the air? Put your headphones on and enjoy this relaxing shortfilm, embarking on a short trip interactive illustration by Alexander Perrin.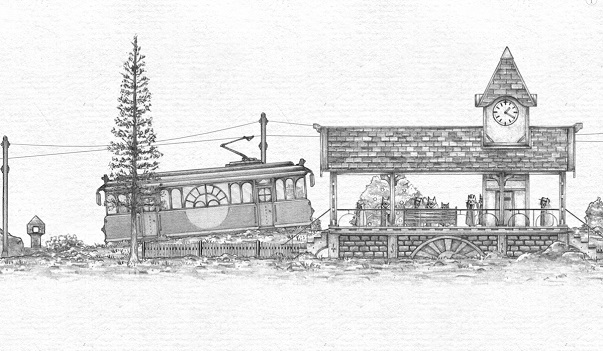 Alexander Perrin's illustration comes to life through the movement of scenery that unfolds as on a film tape, revealing a calm countryside filled with human-like cats that patiently wait for a cable car to arrive.
In this simple, but yet marvelously done simulation you are the conductor who drives the cable car, while the countryside changes as you pass through it.
Your cat passengers are picked up by the car whenever you stop on a designated spot, as the joyful soundtrack of their bobbing fills the air. The aim of this unique game is to give you the opportunity to enjoy the journey for journey's sake, or as the artist explains:
"There's something about the beautifully crafted forms of the railway in sculpted union with the cliff faces and trees that just hits such a therapeutic, aesthetic sweet spot. It's a little bit like riding an enlarged miniature railway, if you know what I mean. You remain passive and enjoy the ride for the sake of the journey."
Interactive graphite illustration
Sometimes the simplest ideas are the hardest one to realize. It took Perrin five years to create Short Trip, from creating all the elements of the work by hand, to coming up with the way of how to transfer graphite drawings to a digital platform.
Settling for graphite drawings, the Australian artist Alexander Perrin gives us a delicate portrayal of a serene journey in an imaginary cat world.
Inspired by the scenery from a ride on the Hakone Tozan Railway in Japan, Perrin opted for tranquility that gives his interactive illustration a specific atmosphere to be found on long journeys through the breathtaking landscapes of Japan.
If you want to learn more about the artist check his webpage or Instagram account, or you can start this amazing journey on the link here. The interactive illustration runs for only a couple of minutes, but if you are impressed with it as we are, you can enjoy it in this 7-hour long loop!
Featured image: a still from Short Trip via thisiscolossal.com
Thank you for reading this article!
Back to Introbrand