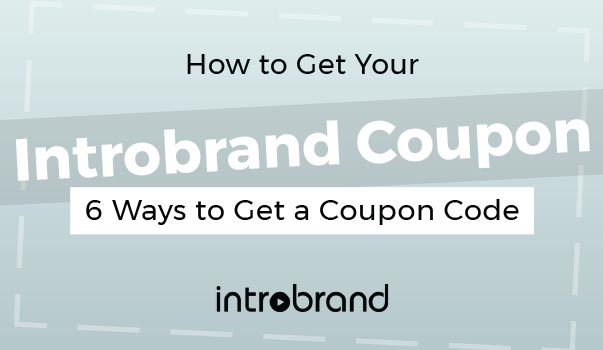 Good News! If you've created a logo animation or intro logo and you love it but can't afford to download it in high quality HD resolution? We now offer several options on how to get a coupon code with a discount. Discounts are fully cumulative! So you easily end up with a 100% discount voucher by using several of the described ways. All discounts are one-time-use for one purchase.
20% Discount for Students
At Introbrand we support the young generation and provide a discount coupon code for rendering any of our animations with a 20% off discount coupon from Introbrand. Just contact our support at [email protected] from your .EDU email or otherwise proof of any consecutive academic or non-academic study program.
Up to 60% Discount for sharing via Facebook, LinkedIn, Twitter
An easy way to get a 20% discount coupon is to post publicly our link with an image or video from our website to your personal or business Facebook, LinkedIn or Twitter. 20% discount applies for each social network! So you could accumulate up to 60% discount with the same post for all 3 networks! Just share any page or link from the Introbrand website or Introbrand blogpost or write your own post about Introbrand, must include link to Introbrand. When you're ready simply send the link to your post to our support team and we'll send your Introbrand voucher code adding 20% per each social network share. Requirement: Legal Twitter/LinkedIn/Facebook account with at least 150 real followers.
30% Discount for a Facebook Review
Share your experience with us on our Introbrand Facebook Page. Write 2 nice lines of text about your experience with Introbrand and give us full stars. Your help will be rewarded with a 30% off coupon code.
100% Discount for a Review on Your Blog
Write a short review (min. 500 words) about Introbrand on your own blog and get 1 free high quality render up to 4K UHD resolution. Your review must include a link to the Introbrand website, and one image/video taken from our website. When you're ready send us the link to your blogpost and we'll send your coupon via email after approval. Only for established blogs with unique domain name, older than 6 months and MOZ spam score of 0.
Lifetime 30% Discount for Resellers
Are you a business, video producer or design-, animation, vfx studio or freelancer and you wish to expand your range of services or plan to resell our animations as stand-alone or as part of your clients' video projects? We offer a flat 30% discount on all purchases after your 10th purchase. Whenever you made your 10th purchase, please contact us at [email protected] so we can create your 30% reseller voucher which is valid for lifetime.
20% Commission for Affiliate Partners
Are you an influencer, publisher, blogger, YouTube or Instagram personality?
Join our new Introbrand affiliate program via ShareASale, we pay you a 20% commission on all sales that came from your website or channel.
How to use a coupon code on Introbrand?
After you've created a preview video you would like to buy. First choose your final video resolution, then proceed to check out page, fill out the personal data and payment form.
Below the payment details, just insert your code in the field "APPLY SUPPORT CODE" and click the -APPLY- button next to it.
Did you find yourself among above categories? Then go ahead and go with the most suitable option to export your animated video at a lower price.
Help and support:
If you're getting an error message saying "Coupon code is not valid" when inserting the coupon code, you are likely to have entered a wrong or expired coupon code. Keep in mind that all coupon codes only work one-time unless otherwise stated.
If you're having any other difficulties using a coupon code, just contact us via email: [email protected]
Back to main website: introbrand.com