It is an oddly satisfying experience to watch as black and white spheres glide through, swirl and reel in white gallery spaces. Join us in the exploration of the story behind them and their maker, a motion graphic designer and visual artist Maxim Zhestkov.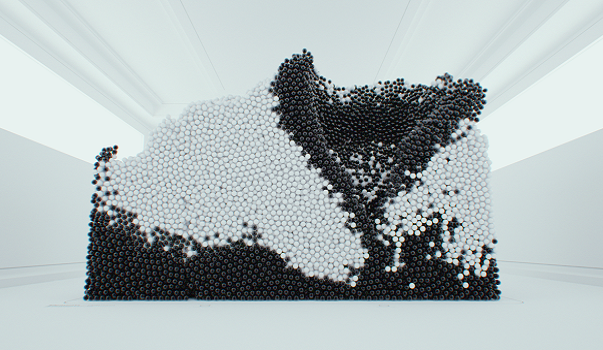 Millions of elements create everything we see and touch. Our bodies, our environments, and even our thoughts. Have you ever wondered how these elements interact? The same question occupied imagination of Maxim Zhestkov and led to the creation of this 3D motion graphics video called Elements.
Maxim Zhestkov's elements of nature
The interaction between the spheres in the video goes from synchronic, almost choreographed, to random, even aggressive, leading to an end where they are all sucked into a blackness of a hole.
The laws of nature and physics are aptly evoked through the intertitles for each segment of the video, named flow, diffusion, pressure, invisible fountains, and black hole. Through these segments and the basic forms he uses, Zhestkov transforms the forces of nature and the forces guiding our thoughts into artistic installations situated in virtual gallery spaces. As he explains:
"The film is a trial to explore the idea that everything around us and inside us is made from simple elements/blocks which can be arranged in complex relationships and become compound structures.

We could project this idea into emotions, behaviors, thought processes, relationships, life, planets and the universe."
Based in Russia, Maxim Zhestkov holds degrees in architecture, graphic design and fine arts. He currently explores the frontiers of art, design, and technology. You can check out his other works on his webpage.
Featured image: Still from Elements via zhestkov.com.