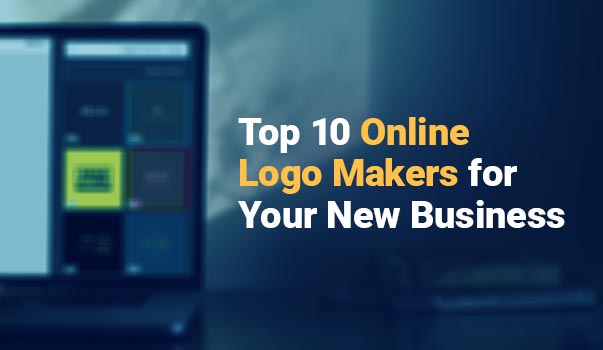 When you're creating your own business, your business brand is the most important thing, and your logo is often the first thing your customers will see.
Although using a professional graphic designer to create your logo is ideal, when you're just starting out or your budget is low, it's not always possible.
There are some ways to get around this however, with several automated logo makers available online.
An online logo creator offers a fast and relatively cheap option for those who just need to get cracking.
How to spot a good logo design
Brand consultants everywhere will tell you that a logo needs to be "timeless". This means that featuring technology visuals is a big no go.
Let's look at one of the world's most successful brands – Nike. Its logo doesn't feature footwear which it's most famous for, but rather, the essence of sport – energy, and movement.
By not limiting itself to featuring its product, it also enables the brand to encompass all types of products.
Many large internationals currently use sans serif fonts and clean, minimalist logos because they look better on smartphones.
Over-complicated logos won't cut it in today's marketplace – the most successful ones in fact are very simple.
A plethora of free fonts are available nowadays, so you need to be careful to choose a professional looking font with appropriate spacing between the letters (kerning) and words (tracking).
Your logo should be unique and convey the essence and values of your brand.
Using an online logo maker is a great way to get started for many small businesses, however it also means there's a strong possibility that your logo will turn out very similar to another company's logo. So it might not be perfect for every new venture.
If you do decide to choose an online logo creator however, we've rounded up some of the best tools to help you out.
Shopify logo maker, Hatchful, uses a clean, simple interface with attractive illustrations for clickable options. Over 100 options are presented, after only about a minute of selecting.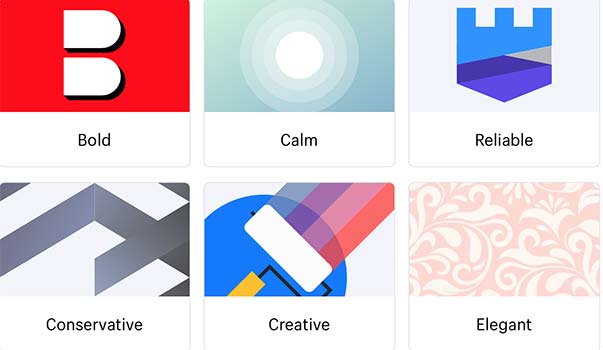 When scrolling through however, the majority seem a little twee and are sometimes confusing – looking like the letter 'M' or featuring an icon which wasn't relevant to the company name.
There were a handful of logos however which would suit both the industry and name and would act as a good starting point. After you choose your icon, you can use the preview buttons and select from a seemingly infinite number of fonts and colours.
What it's good for: a super quick process and thumbnail previews of fonts and colours
What's not so good: irrelevance of numerous logos in terms of shape and icons. No print format offered
Level of customisation: low, but can preview fonts and colours
Predefined style options? yes, around 20
Can you define the industry? yes
Previews: yes, on webpages
Formats: PNGs in a variety of formats for digital use.
Cost: free PNG download in different formats
A keyword search will bring up several icons to choose from, some more relevant than others. After you've chosen your logo style, Vistaprint's online logo creator gives you around 40 logo options.
Out of these you may find around three which could fit your business values and mission. In this online logo maker's editing interface you can easily adjust the colour of the icon and choose from many fonts. If you're still unsure, you can even change the icon at this stage. You can also move the elements around to adjust the spacing.
Once you are happy with your logo, you're obliged to register your details and then given an option to pay to download the logo in PDF format for printing and as a transparent png for digital use. There is also a "free" option of using the logo on materials, but only if you use Vistaprint's printing service.
What it's good for: a quick and flexible solution which enables easy adjustments
What's not so good: the amount of variations which don't hit the mark
Level of customisation: medium
Predefined style options? yes, six including 'Elegant', 'Modern' and 'Traditional'
Can you define the industry? no, but you can search by keyword
Previews: yes, on materials you can produce with Vistaprint
Formats: PDF, PNGs
Cost: "free"- if you pay for printing your branded materials with Vistaprint or $20 for a web PNG and vector PDF for print.
A pulsating landing page welcomes you and encourages you to pop in your company name and get started on your branding.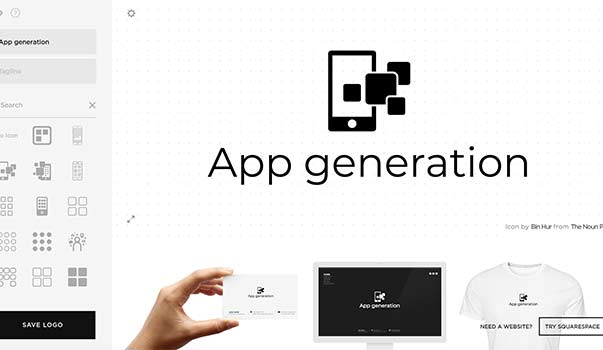 Type in 'app' icons into this online logo creator and you are provided with around 40 refined icon options. Some are modern and clean, while some are in a more casual hand illustrated style. It's easy to flick between icons until you find one suitable.
At the bottom of the page you can see live previews on a business card, on desktop and on a T-shirt.
What it's good for: refined icons and minimalist interface
What's not so good: only available as non-editable PNG format
Level of customisation: medium
Predefined style options? no
Can you define the industry? no, search icons by keyword
Previews: yes, live on the page, as you edit
Formats: web and high res PNG
Cost: free PNG for web use with watermark, or high res PNG for $10 (free for SquareSpace subscribers)
In an attempt to whittle down logo options, Looka online logo maker tries to find out what type of logo you'd like.
This is an easy process, first you need to choose from visual styles you like by clicking on five thumbnail logos, then you choose three colours, which is aided by giving a description of the feeling each colour evokes.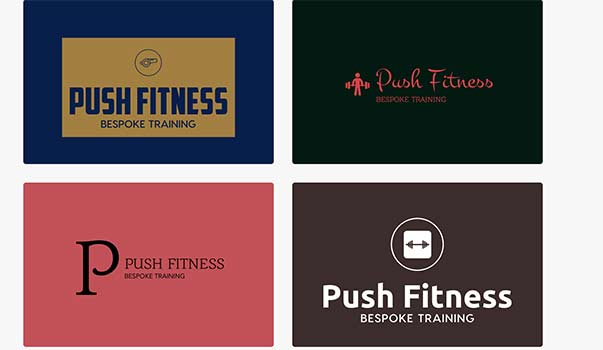 Although the icon options look like dated clipart icons, the process produces a variety of typographic options, which are surprisingly good and should provide some inspiration.
What it's good for: creative typographical solutions, which can inspire your professional designer
What's not so good: quality of icons
Level of customisation: medium
Predefined style options? it assesses your desired icon and colour style with visual questions
Can you define the industry? no
Previews: yes, rollover the logo thumbnail and it will preview on signage, mobile and t-shirts.
Formats: non-transparent low res, through to high res and vector, depending on the plan.
Cost: 'Basic' offers a non-transparent, low res logo plus 1 hour with a real designer for $20. A premium package with vector formats costs $65.
This feels like a professional and stylish interface. After you select the industry, you are given a good variety of original options with varying quality and relevance.
You can choose fonts and resize the text by dragging handles. You can change colours of sections of the logo icon, but on some icon parts are not grouped and it's tricky to change each individual part.
What it's good for: original, creative designs
What's not so good: quality and relevance of icons is hit and miss
Level of customisation: medium
Predefined style options? no, choose from several premade graphics
Can you define the industry? yes
Previews: yes, t-shirts and stationery preview can be opened on separate page
Formats: high res JPG through to vectors depending on plan
Cost: 'Basic' ($19.99): high res JPG. 'Standard' ($39.99): High res files with transparent background. Pro $99.99 vector SVG file and your icon will be removed from the database.
6. Wix's online logo maker
Can choose industry -'fashion' for example, then personality words to describe your brand such as 'creative'. Next you get to say which type of logos you like/dislike, before choosing where you'll use your logo.
Out of around 12 logos, however there was only one logo which looked like it would be relevant to the brand. A mountain range icon seemed like a wild jump even for a 'Freak Fashion' portfolio.
The six-colour palette offers several combinations of colours which can be applied to the logo at a click of a button. Choosing a font is easy, you are given thumbnail screenshots of hundreds of fonts which you can view just by scrolling down.
The screen also gives a desktop preview. You can change the icon here if needed. The interface crashed when saving.
What it's good for: sophisticated typographic options including spacing and alignment.
What's not so good: interface can be slow and occasionally freezes.
Level of customisation: high
Style options: describe your business with personality words
Can you define the industry? yes
Previews: yes, move along with navigation buttons on the same page
Formats: web PNG through to vectors
Cost: web PNG €12.99 and €49.99 for vector files.
Easy to use system – enter your business name and the industry and you're away.
It's not so easy to add line breaks in the text, but you can change the font and the colours of both the text and icon. You can also add more shapes and a text slogan as needed.
What it's good for: simple to use interface
What's not so good: text formatting
Level of customisation: medium
Style options: no
Can you define industry? yes
Previews: no
Formats: PDF, JPEG and PNG file types
Cost: $37 web logo and vector PDF for print. Can add stationery at an extra cost.
This online logo maker encourages you to start from scratch, so you'll need a fair amount of design knowledge to use this. UCraft has more than one million icons available, but the quality isn't amazing.
The interface has more or less what's necessary, bar there being no option to centre justify text. You can preview the logo on various types of media as you go along, in a separate screen.
What it's good for: creating a design quickly and cheaply if you know what you want
What's not so good: quality of icons and interface functionality
Level of customisation: medium
Style options: no
Can you define industry? no, choose from icons
Previews: yes, in separate page
Formats: transparent PNG or SVG vector.
Cost: free transparent PNG or a free SVG vector for $12.
9. Hire a freelance graphic designer
If you're not too tech savvy or would rather hand branding and logo design off to a freelance graphic designer straight from the off, then below are some things to look for in a professional freelance graphic designer.
Has an existing knowledge of your industry and competitors, or is willing to research it thoroughly
A portfolio that demonstrates branding design in a style relevant to your business
Uses the latest versions of Adobe Creative Cloud software
Presents three considered logos with a revision and consultation stage
Will provide the signed-off files in optimised formats for print and digital use
Produces a style guide to demonstrate how the logo should be use
Wrapping up online logo maker tools
If you'd like a quick and easy option, or some inspiration for your designer, Logo Joy or Hatchful online logo creator tools are good choices.
For a lovely clean interface, with a medium level of customisation, choose SquareSpace. If you want more design control and options over your logo, then Adobe's Spark or Canva are the best.
After you have your new business logo ready, you can read more about how to animate your logo here.
Back to Introbrand